The Community Caring Center (CCC) food pantry has operated out of the warehouse located at 317 Commerce St. in Azle, TX for 20 years! In our effort to update the food pantry building and equipment used to serve those in need, CCC engaged a fundraising consulting firm to assist with the creation of a Major Gift Campaign for the much needed renovations. A local business blessed us with our first gift with an expansion to the back of the current building which will house a 3,800 square foot cooler and freezer.
This very generous donor and his team began construction on Friday, November 10, 2023 in the back lot. This eliminated safe access from Red Bud Dr. to the back of the building. Alternate parking for our volunteers and a new traffic pattern for our clients have been designed so we can continue to support those in need with food, clothing, and household goods.
Our goal is to have the Food Pantry and Free Shop open during the entire construction project. If there are any construction procedures that would put visitors in danger, we will notify the community of any closures as soon as possible.
The Porch Resale Shoppe, located next door at 313 Commerce St., connects to CCC's lot and will also be affected.
The Porch will have new hours of operation

Tuesday, Wednesday, & Friday 12pm-6pm and Thursday & Saturday 10am – 3pm
This will help with our traffic flow for food distribution and free up parking spaces for volunteers.

Food and non-food donations will be accepted at the back of The Porch during their hours of operation.
Food Distribution – Client Traffic Pattern

We will create an "Entrance Only" and "Exit Only" at the gates on Commerce Street.
Clients will now circle around the back of The Porch to enter the Food Pantry line.
Groceries will be delivered to cars from the front entrance of CCC.
When clients visit our Food Pantry for groceries, they should follow the traffic pattern shown by the red arrows.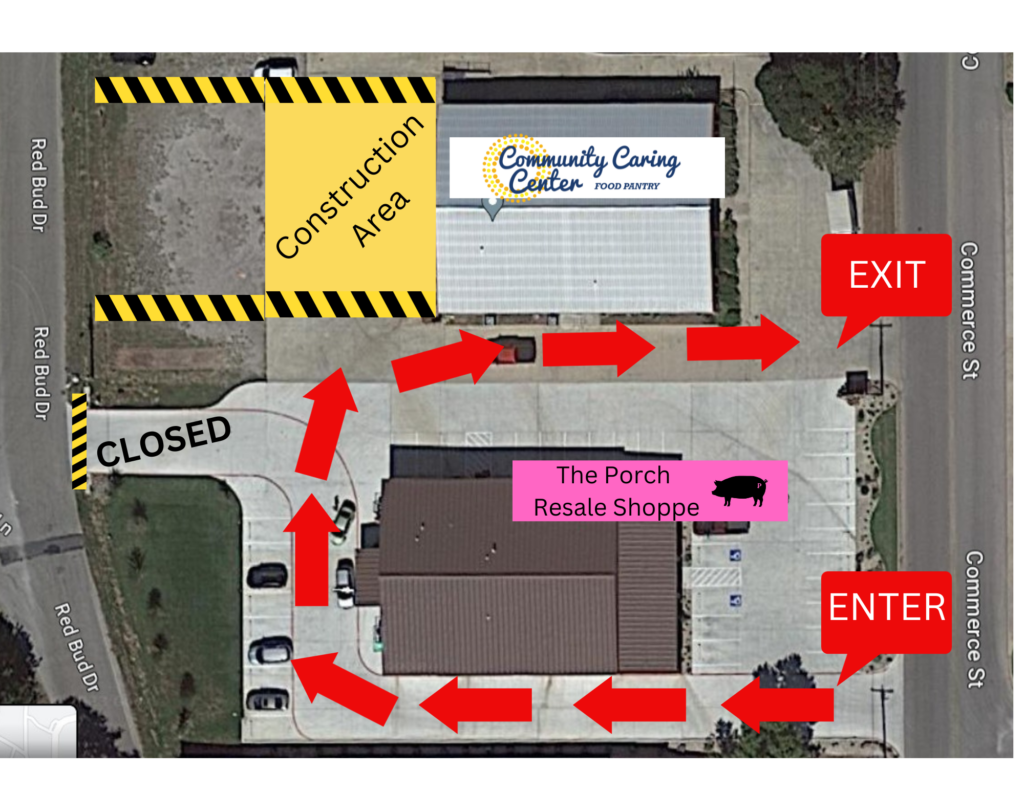 While construction may present some challenges, we couldn't be more excited about this wonderful gift!