We are grateful, happy and excited to announce that we have reached the goal of $1,000 totaling $1,051 for our 2020 Annual Christmas Food Drive!
FOOD DRIVE DONATIONS
100%
Azle is amazing and has shown the true meaning of Christmas. Our community raised $1,051 in 4 days to put food on the tables of our neighbor's tables this Christmas. GOD BLESS!
The donation form has been taken down so we can focus on shopping. We are still accepting physical donations at any time, please see the list below for our needs.
If you would like to make an in-kind donation to Community Caring Center, please click here. 
Would you be willing to help by giving a donation? Any amount will help bring Christmas Joy to tables this year.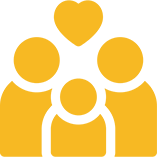 Help the Azle Community Caring Center spread Christmas cheer by participating in our Christmas Box Food Drive!​
Community Caring Center provides families with Christmas Boxes of extra items to help nourish their family over the holidays. This year is no different, hunger does not take a break! 
Currently, we are most in need for: 
– Cake Frosting
– Canned Sweet Potatoes/Yams
– Mini Marshmallows
– Green Beans 
– Hot Chocolate
FOR A FULL LIST, PLEASE CLICK HERE
Drop-off times: M,T,W,F 9:00 – 11:30 am or Th 4:00 – 6:30pm)
Please contact our office for large donations or alternate drop off hours.