Would you be willing to help by giving a donation? Any amount will help bring Christmas Joy to tables this year.
Christmas Food Drive Donation 2021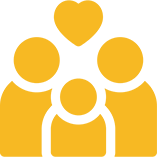 Help the Azle Community Caring Center spread Christmas cheer by participating in our Christmas Box Food Drive!​
Community Caring Center provides families with Christmas Boxes of extra items to help nourish their family over the holidays. This year is no different, hunger does not take a break! 
FOR A FULL LIST, PLEASE CLICK HERE
Drop-off times: 
Community Caring Center
317 Commerce St
Azle, TX 76020
MTWF 9-11:30 am
TH 4-6:30 pm
The Porch Resale Shoppe
313 Commerce St
Azle, TX 76020
T-F 10 am – 6pm
Sat 10 am – 3 pm
Please contact our office for large donations or alternate drop off hours.